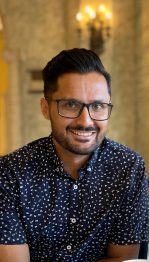 Dr. Kulwinder Singh Virk
The newest addition to the roster of physicians at LakeMed Clinic, Dr. Virk joined the practice in 2016. After completing his medical degree at St. Georges University, and his subsequent residency in Family Medicine at the University of Calgary.
Particularly attracted to LakeMed by the patient centred approach to care, Dr. Virk is invested in the health and well being of his patients. Assisting his patients as they navigate health challenges they are experiencing gives him a sense of pride. Both in the individual who is able to optimize their well being, and the community at large which is also bettered.
Having chosen a Family Medicine, Dr. Virk enjoys all aspects of medicine and the varying types of care he gets to provide. He also enjoys doing procedures such as biopsies and laceration repairs.
In addition to medicine Dr. Virk enjoys spending family time on activities such as swimming or the movies. He likes to travel, but also enjoys watching and playing sports including hockey, soccer, as well as going to the gym.